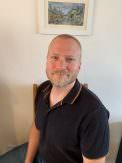 I am a highly experienced Consultant clinical psychologist, passionate about working with people who are having a difficult time. I have extensive training and experience of working across a variety of mental health difficulties, developmental disorders and age ranges with individuals, couples, and families.
Currently I work as a Consultant clinical psychologist in the NHS and as Clinical Lead for Children and Young people's mental health at Northumbria University, where I hold national and regional consultative roles.
Over the last 20 years I have developed a passion for working with children and adults with a variety of mental health difficulties from depression to anxiety, behavioural and emotional difficulties, to psychosis. I also have a special interest in working with developmental disorders such as autism spectrum conditions and attention deficit hyperactivity disorder. I am an accredited Cognitive Behavioural Psychotherapist (CBT) with the BABCP, Registered Practitioner Psychologist with the HCPC, and Associate Fellow and Chartered Psychologist with the British Psychological Society.
In therapy I use a variety of methods including CBT and systemic theories. I am also a therapist and trainer in Behavioural Family Therapy and have experience of delivering Programmes and supervision of Applied behaviour Analysis and Positive behaviour Support.
Throughout my career I have spread my time across clinical and academic specialities and believe that this allows me to stay up to date with best practice across conditions. My experience in academia also gives me a wealth of experience in managing the challenges and stresses of academic study.
I have extensive experience of supervising other clinicians and am also happy to take enquiries for accredited CBT supervision of supervision.
I look forward to taking informal and formal enquiries from individuals and families and look at ways that we can work together in a warm and compassionate way to improve your quality of life.
Markku
Appointments
I offer appointments at Durham Therapy Centre on Monday and Tuesday evenings.
Contact
To make an enquiry or book an appointment, please contact Markku on:
Email: Click here to email
Website: http://www.egwpsychology.co.uk