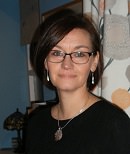 My name is Lynne Bargewell, among other things I am a BACP Senior Accredited Counsellor/Psychotherapist. I trained at Durham University and have worked as a therapist  for the last 18 years. I worked in the NHS in local GP practices as a  Counsellor up until 2019  and am one of the founding Partners at Durham Therapy Centre.
Like Carl Rogers, one of the founders of the Humanistic approach to psychology, I believe that it is in our nature, and indeed all of life's nature to grow to fulfill our potential. Each and every one of us can be motivated to be the best we can be. However sometimes this process become blocked or distorted by things that happen to us in our lives. Rogers describes therapy as a process of freeing a person and removing obstacles so that normal growth and development can proceed and the client can become independent and self-directed.
My first experience of counselling was as an undergraduate in the University Counselling Service. I remember being in the calm of this man's presence and his room and being aware that I'd never in my life experienced an environment like this. I'd never had anyone who had really listened to me. Of course I'd had parents and friends before wanting to help and support, offering advice or telling me what I should do but no one had ever really listened to me and told me I was capable of working it out for myself. This man took me seriously and gave me his time, energy, space and support and it was just what I needed.
I offer you the space to work where you feel listened to and accepted. Within this space there are a number of ways to work and part of the therapy is to find the way that suits you. I'm interested in many of ways of working and tend to focus on the person rather than the problem and then work with a client to find a way of working that suits their personality and their needs.
Appointments
I offer appointments online using Whatsapp video or Skype. I also offer telephone consultations or email exchange. My working days are on Tuesday, Thursday  and Fridays. Cost is £50 per session.
Contact
I am on leave until November 2021 .To make an enquiry or book an appointment please contact Lynne on:
Mobile: 07846 033108
Email: Click here
Website: http://www.lynnebargewell.co.uk