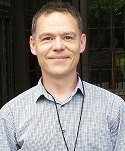 Hello my name is Thomas Reeves. I qualified as a Cognitive Therapist in 1998 and have been accredited with the British Association for Behavioural and Cognitive Psychotherapies since 2000. I am also a qualified EMDR Practitioner.
I have been employed in the NHS since starting my mental health nurse training in 1987 and have worked in the private sector on a part time basis since 2000.
I completed my MSc in Cognitive Behavioural Psychotherapy in 2005. My areas of clinical expertise include anxiety disorders, obsessive compulsive disorder, panic disorder, post traumatic stress disorder, generalised anxiety disorder and social phobia. I also work with clients who present with chronic depressive disorder.
Cognitive Behaviour Therapy is one of the best researched psychological therapies and is recommended by The National Institute for Clinical Excellence (NICE). It is a short term treatment which focuses on a collaborative relationship between the client and the therapist identifying realistic treatment goals and methodically working towards them.
Choosing a therapist can be very difficult. If you choose to work with me you will be working with a therapist with significant experience.
I am fully registered with the NMC and adhere to the guidelines of ethics and practice, I can assure you that you will be treated with respect and dignity and I will only provide treatment if I believe I am able to help you and if this is not the case I will do my utmost to signpost you to the best services for your needs. If you would like to meet with me or discuss your difficulties prior to an assessment session please contact me.
Appointments
I offer appointments at Durham Therapy Centre on Thursday evenings and Friday afternoons.
Coronavirus update – I am doing face to face sessions as well as offering online appointments using Skype.
Contact
To make an enquiry or book an appointment, please contact Thomas on:
Mobile: 07761 120 280
Email: Click here to email